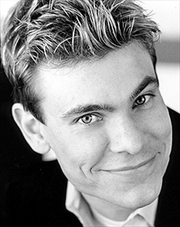 Aaron Christopher Krohn (born July 5, 1968 in Houston, Texas) is a former Texas-based voice actor who primarily worked on the properties of ADV Films.
His most well known role is that of Ryoji Kaji on the hugely successful anime series Neon Genesis Evangelion. In addition to Kaji, he also played Kaworu Nagisa in the movies Evangelion: Death and Rebirth and The End of Evangelion.
Other Roles
Edit
Some (but not all) of Allison Keith's roles include:
Battle Angel as Zapan
Blue Seed as Chief Cabinet Secretary; Jun's Father; Murakomo; Orochi-No-Orochi; Secretary; Susano-o
Burn Up W as Police Chief; Reporter; Thug A
Sukeban Deka as Kyouichiro Jin
Super Atragon as Go Arisaka/Masashi Hyuga
Those Who Hunt Elves as Bath House Master; Yuri
Ad blocker interference detected!
Wikia is a free-to-use site that makes money from advertising. We have a modified experience for viewers using ad blockers

Wikia is not accessible if you've made further modifications. Remove the custom ad blocker rule(s) and the page will load as expected.