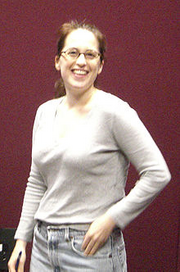 Amanda Beth Winn Lee is an American voice actress, writer and ADR director who works mainly on anime dubs. She was featured most notably as Rei Ayanami of Neon Genesis Evangelion fame. She can also be heard in the commentary for the Region 1 The End of Evangelion DVD along with fellow voice actors Taliesin Jaffe and husband/Gaijin co-owner Jason C. Lee.
Winn Lee served as ADR director, dub script writer, and producer for the English versions of The End of Evangelion and Evangelion: Death and Rebirth.
It was suggested by Spike Spencer at Nan Desu Kan 2007 that she was interested in reprising her role(s) in the upcoming Rebuild of Evangelion films. However, in May 2009, North American anime distributor Funimation announced that the role of Rei for the first film Evangelion 1.0: You Are (Not) Alone would be voiced by Brina Palencia. Brina Palencia is now under contract to voice Rei Ayanami for the three remaining Evangelion "Rebuild" films.
Other Roles
Edit
Some (but not all) of Allison Keith's roles include:
Spriggan(manga) as Flight Attendant
Sukeban Deka as Saki Asamiya
Super Atragon as Annette
Battle Angel as Gally
Blue Seed as Momiji Fujimiya, Kaede Kunikida
Burn Up! as Reimi