Evangelion Provisional Unit-05
Talk

6
430pages on
this wiki

"Unit-05" redirects here. For the Mass Production Unit-05, see Mass Production Evangelion#Specific Eva Units.
This article has a collection of images to further represent its content. To see its gallery, visit Evangelion Provisional Unit-05/Gallery.
The Provisional Unit-05 (仮説5号機[?], "Kasetsu Gogōki") appears in the movie, Evangelion: 2.0 You Can (Not) Advance, with a completely different appearance of Unit-05 (5号機[?], "Gogōki"), which never made an appearance in the anime.
Unit-05 is not built with a humanoid-like appearance (it could however be due to the fact that this Unit wasn't fully completed during its first deployment, as its name suggests it), like Units 00–04, and holds a design that gives it a short arm and a spear similar to a jousting lance in appearance for its weapon, which is referred to as "Anti-Angel Extermination Weapon Spear of Longinus Basic Type (Pseudo-Restoration)",[1] with a glowing gem near its tip. This weapon has displayed A.T. Field-piercing abilities, as can be observed during its fight against the Third Angel. It also has four wheel-like legs. The Eva's torso is colored white with orange and gray, while its limbs are a shade of green. Due to the Eva's inhuman appearance, the pilot is required to use a special equipment with tubes attached to the wrists and a large helmet for movement. Rocket boosters and drills also feature in the design to help aid this speedy Eva once in action. A noticeable difference is that it lacks an umbilical cord. Instead it gathers its energy from pantograph-like wires atop the shoulder pylons, which connect to the roofs of the various tunnels of Bethany Base.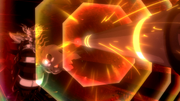 Unit-05 is piloted by Mari Illustrious Makinami during the opening scene of the movie, having been deployed to counter the escape of a captured Angel which was being held at the U.S./Russian Bethany NERV base. The fight results in the destruction of both the Angel and Unit-05.
References
Edit
↑ Evangelion 2.0 Complete Records Collection