Evangelion Unit-03
Talk

0
430pages on
this wiki
This article has a collection of images to further represent its content. To see its gallery, visit Evangelion Unit-03/Gallery.
Evangelion Unit-03 (参号機[?], "Sangōki") never sees action before being possessed by Bardiel.
Built in the United States by NERV Second Branch in Massachusetts, USA, Evangelion Unit-03 is one of two Units built with the Second Production Model design. It is the brother Unit of Unit-04 (Unit-03 and Unit-04 were oddly the only Evangelions who were addressed as males during the series). The United States government insisted on having the rights to build Unit-03 and Unit-04.
The pilot assigned to it was Tōji Suzuhara, but in transit to Japan, it was possessed by the thirteenth Angel, Bardiel, which appeared as a cloud. As Bardiel, it was savagely torn apart by Unit-01, after the control of Unit-01 was switched from Shinji to the Dummy Plug system, designed to simulate Rei Ayanami as the pilot. Toji, the pilot, is severely injured in the anime, but in the manga he actually dies.
A few minor changes were made between the first and second Production Models. Unit-03's color was unique, with much darker plates than any other Eva. The head was oddly shaped, too, with a rounded top and exaggerated chin. Unit-03 sports a predominately black color scheme with white and red highlights (the white details are actually neon white in Evangelion 2.0 much like the neon green details from Unit-01) and during its fight with Unit-01 in Evangelion 2.0, it grows a separate pair of arms out of the top of its shoulders to help strangle Unit-01. Both the original and the Rebuild version of the Eva have grey eyes, as evidenced by freeze-frame play of their destruction.
In other media
Edit
Rebuild of EvangelionEdit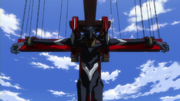 In Evangelion: 2.0 You Can (Not) Advance, Unit-03 is shown with the same color scheme as the series, with more red and white highlights.
The test pilot of Unit-03 is Asuka. During the fight with Unit-01 it grows an extra pair of arms to help strangle Unit-01, but just as in the series it was torn apart savagely by Unit-01 under the guidance of the Dummy Plug. The Entry Plug containing Asuka was crushed in Unit-01's mouth though she is shown later in 2.0 being placed in a medically induced coma for her injuries, and to scan if the Angel's infection had gotten into her body. Also in the preview for Evangelion 3.0 she is shown awoken from her coma with an eyepatch covering her left eye (an injury likely caused by Unit-01 or surgical removal from the Angel. It should be noted that Asuka seems to tear off her eyepatch, suggesting the eyepatch could be hiding something). All the while Shinji was generally unaware of exactly what was happening except for the crushing of the Entry Plug.
It is currently unknown what happened to Unit-03's various torn appendages.