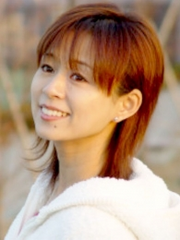 Junko Iwao
(岩男 潤子 Iwao Junko, born February 18, 1970 in Beppu, Ōita Prefecture) is a Japanese voice actress who has also released several CD albums as a J-pop singer. Her most notable role is in Cardcaptor Sakura providing the voice to Sakura's best friend, Tomoyo.
A selection of other characters voiced by Junko IwaoEdit
Blue Seed as Valencia Tachibana
Cardcaptor Sakura as Tomoyo Daidouji
Macross 7 as Sally
My HiME as Akane Higurashi
My Otome as Akane Soir
Perfect Blue as Mima Kirigoe
Romeo & Juliet as Ophelia
To Heart as Serika Kurusugawa
Puella Magi Madoka Magica as Kazuko Saotome
Ad blocker interference detected!
Wikia is a free-to-use site that makes money from advertising. We have a modified experience for viewers using ad blockers

Wikia is not accessible if you've made further modifications. Remove the custom ad blocker rule(s) and the page will load as expected.