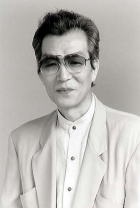 Kiyokawa
(清川 元夢 Kiyokawa Motomu, born April 9, 1935) is a Japanese actor and seiyū from Kanagawa Prefecture. He is affiliated with the Tokyo Actor's Consumer's Cooperative Society. Now in his seventies, Motomu Kiyokawa is the oldest member of the cast, but has even managed to reprise his role in the
Rebuild of Evangelion
movies as
Kozo Fuyutsuki
.
A selection of other characters voiced by Motomu Kiyokawa
Edit
Mobile Suit Gundam (1979) as Tem Ray
Nadia - Secret of Blue Water (1990) as Gargoyle
Mobile Fighter G Gundam (1994) as Dr. Mikamura
The Big O (1999) as Norman Burg
Gungrave (2003) as Dr. Tokioka
Hellsing (2001/2006) as Walter C. Dornez
Ad blocker interference detected!
Wikia is a free-to-use site that makes money from advertising. We have a modified experience for viewers using ad blockers

Wikia is not accessible if you've made further modifications. Remove the custom ad blocker rule(s) and the page will load as expected.