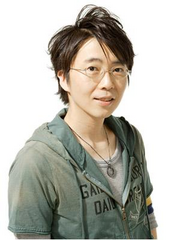 Tetsuya Iwanaga
(岩永 哲哉) is a voice actor who provides the voice for
Kensuke Aida
in the
Neon Genesis Evangelion
TV Series. He also provides the voice for Keita Asari from the
Girlfriend of Steel
video game. As of April 1, 2009, he is affiliated with maxmix.
A selection of other roles played by Tetsuya Iwanaga
Edit
El Hazard as Makoto Mizuhara
Fortune Quest L (1997) as Trapp
Princess Nine (1998) as Seishirou Natsume
Tsubasa: RESERVoir CHRoNiCLE (2005) as Souseki
Puella Magi Madoka Magica (2011) as Tomohisa Kaname
Ad blocker interference detected!
Wikia is a free-to-use site that makes money from advertising. We have a modified experience for viewers using ad blockers

Wikia is not accessible if you've made further modifications. Remove the custom ad blocker rule(s) and the page will load as expected.